Join Our Telegram channel to stay up to date on breaking news coverage
OKB price prediction remains bearish; however, the coin's upward trendline is likely to support it at $16, and closing above this may provide some buying opportunities. Despite the cryptocurrency market's recovery since the start of the week, OKB (OKB) coin has continued to suffer minor losses and has dropped to around $16. The reason for this drop, however, has remained unknown because everything has so far benefited this coin, whether it be its partnerships with various industrial firms and communities or its numerous features.
The upbeat cryptocurrency market, on the other hand, has failed to support this coin, which has suffered marginal losses in comparison to Bitcoin and Ethereum throughout the ongoing recovery. However, OKB has been gaining investor interest, owing primarily to its Blockchain. However, the same investor attitude may greatly assist the coin OKB in limiting its losses.
OKB Price & Tokenomics
The current OKB price is nearly $16 with a $28 million 24-hour trading volume. The 24-hour performance of OKB is down over 1%. OKB is presently ranked #52 on the market and has a live market capitalization of $990 million. Whereas, there are 60,000,000 OKB coins in circulation.
OKB Market Performance – Several Partnerships Occurred
OKB is a cryptocurrency introduced by the OK Blockchain Foundation and Maltese crypto exchange, OKEx. Notably, the exchange is regarded as one of the world's biggest and has the third position in liquidity ranking while fourth in terms of trading volume. Plus, it provides a wide selection of trading pairs.
The main goal of OKB is to link potential digital asset ventures with OKEx customers and experienced investors. It is also worth noting that the OKB Network engages with clients directly and provides solutions without intermediaries. Whereas a blockchain network cryptographically secures the complete data on the network.
OKB (OKB) coin has been performing poorly over the past few days, and the solid reason is still unclear. This is likely because of its volatile nature, which always makes the cryptocurrency market unpredictable.
#Altcoins
Top Gainers
[Last 24 hrs]

1. $XCN #Chain 12.48%
2. $DOGE #Dogecoin 7.96%
3. $UNI #Uniswap 5.24%

Biggest losers
[BTD]1. $KLAY #Klaytn -6.08%
2. $ZEC #Zcash -4.13%
3. $OKB #OKB -3.39%

The market is Ranging#cryptocurrency #altcoins

— Trader Fred (@DCA_Cryptoz) November 1, 2022
On the plus side, the OKB coin still has a high chance of regaining market traction due to its numerous partnerships with various industrial firms and communities that keep the coin in the minds of investors. OKB has collaborated with a variety of companies, including Litex for a mobile fuel card, Tripio for lodging, TrueChain for business transactions, and QLC for redeemed file and data transfer services with Fish Chain, among others.
On the other hand, the OKB network is committed to enhancing cybersecurity by incorporating security measures into its ecosystem. OKEx has partnered with Bitpie-Multichain wallet to provide OKB clients with access to a broader range of DeFi services. As a result, the numerous collaborations and numerous positive features of the OKB network would have a positive impact on OKB coin prices in the near future. Because of the trust that investors have placed in this coin, the OKB coin has become a well-known coin in the crypto industry. According to the OKB forecast, the price of OKB is expected to rise, making OKB a wise investment.
Upbeat Crypto Market
Since the start of the day, the global cryptocurrency market has been flashing green, and it has risen further today. However, this was demonstrated by the recent rise in the world's largest and most well-known digital token, Bitcoin. However, the reason could be related to upcoming macroeconomic developments in a number of global markets. Bitcoin, the world's largest and most popular digital token, managed to maintain its upward momentum and remain above the $20,533 mark. Ether, the second-largest cryptocurrency connected to the Ethereum network, increased by about 1% to $1,591.
Meanwhile, the Shiba Inu was also up nearly 3% to $0.000012 while Dogecoin was trading more than 11% higher at $0.14. Moreover, the performance of other cryptocurrencies was also bullish, with gains seen in Binance USD, Chainlink, Tether, Cardano, Polygon, XRP, Terra, Tron, Litecoin, and Uniswap.
#DOGE has risen by over 130% in the last week. https://t.co/teaoLHSlfC

— Bitcoin News (@BTCTN) November 1, 2022
According to the most recent data, the global crypto market was valued at $1.06 trillion in the previous 24 hours, but it remained above the $1 trillion mark today. As a result, the upbeat cryptomarket mood was viewed as another key factor that assisted the OKB in limiting its current losses.
Bearish US Dollar
The broad-based US dollar fell from a one-week high as traders awaited the Federal Reserve's upcoming rate decision, which could also provide hints about future policy direction. However, the dollar's decline could be attributed to expectations that the central bank will take a less hawkish stance. As a result, a weakening US dollar will aid the OKB coin in limiting its losses. The broad US dollar fell on expectations that the Fed would take a less hawkish stance, which was viewed as one of the key factors that could help the coin gain some positive momentum.
Tomorrow at 2:30 p.m. ET: Chair Powell hosts live #FOMC press conference: https://t.co/1uJrua5qsH pic.twitter.com/D8vJTHM535

— Federal Reserve (@federalreserve) November 1, 2022
According to our predictions for cryptocurrency prices over the next five years, the OKB coin will be a profitable investment due to its widespread adoption and numerous partnerships with various industrial houses and communities.
OKB Price Prediction – Up 3% to $16 But This Trading Signals Coin Could 10x
OKX has found support near $16, and the closing of a 4-hour candle above this level indicates the possibility of a bullish reversal. The RSI and MACD are in the sell zone, but OKB's recent histograms are shrinking, indicating a weaker selling trend.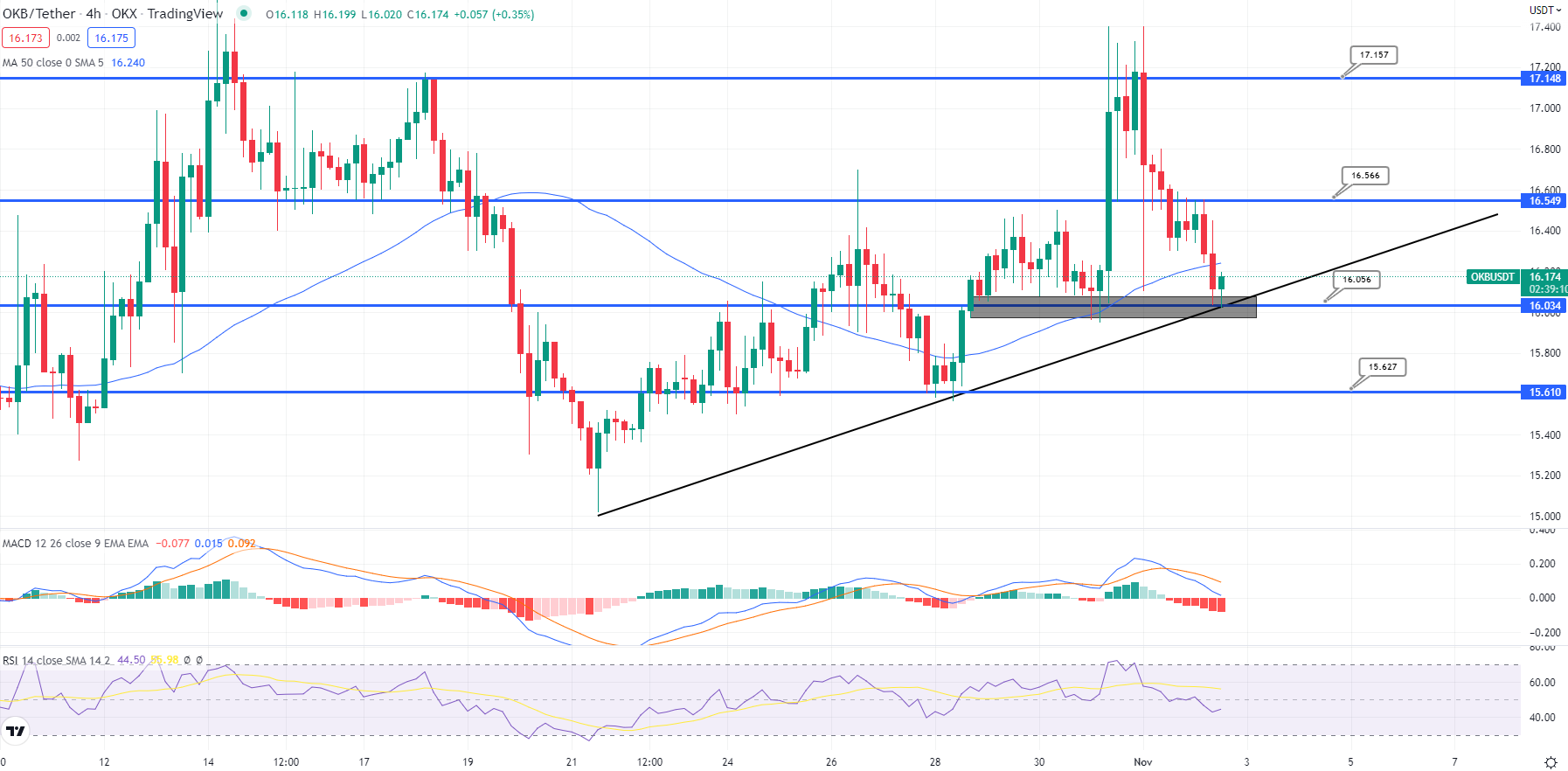 OKB Price Chart – Source: Tradingview
On the upside, OKB's immediate resistance remains at $16.50, and above that, OKB can target $17. Alternatively, a break below the $16 level may allow for more selling until the $15.60 level.
Related
Dash 2 Trade – High Potential Presale
Active Presale Live Now – dash2trade.com
Native Token of Crypto Signals Ecosystem
KYC Verified & Audited
Join Our Telegram channel to stay up to date on breaking news coverage

Credit: Source link