Join Our Telegram channel to stay up to date on breaking news coverage
Dash and other cryptocurrencies have a lot going on that affects their prices. While the coin may not be as popular as Bitcoin, it is still a digital asset. As a digital currency, its functionality determines how its market moves and value changes. 
Predicting the price movement of Dash is never easy. But crypto enthusiasts, traders, and websites have predicted its future based on various factors that dictate its market movement. Here is our expert price prediction.
DASH Price Prediction Analysis
As of today's price, Dash is worth $67.76. Trading volume for the past 24 hours was $348.65M, market capitalization was $758.82M, and market dominance was 0.07%. 
Currently, 11.02 million DASH are circulating out of a maximum supply of 18.90 million. Since the supply inflation rate is currently 4.01%, 424,336 DASH has been created in the past year. According to market capitalization, Dash is the eighth most valuable Proof-of-Work coin, the second most valuable Privacy coin, and 34th most valuable Layer 1 coin.
Crypto experts predict the average DASH rate to be $74.91 by the end of February 2023, based on the price fluctuations of Dash at the beginning of 2023. Price ranges from $67.78 to $77.05 for its minimum and maximum.
By March 2, 2023, we expect the value of Dash might rise by 22.05% to reach $85.29. We see current sentiment as bearish, while our fear & greed index is 52 (neutral). 16 out of 30 days (53%) were green for Dash, with 10.76% price volatility over the last 30 days.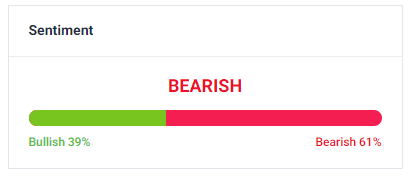 There might be a minimum trading cost of $72.84 in March 2023, while the maximum might be $80.80. We expect dash to be worth $76.41 on average.
What Makes Dash unique
With optional privacy features, Dash facilitates fast and efficient transactions. Dash began as Xcoin but soon became "Darkcoin." Similar to Bitcoin, it was designed to be a privacy-centric cryptocurrency. A key feature of Darkcoin was its ability to send anonymous transactions, which Bitcoin lacks.
Eventually, DarkCoin was renamed Dash, an acronym for "digital cash." Dash uses a Masternode Network, which allows users with over 1,000 coins to run a masternode. The masternode operators receive regular rewards for providing services to the network's clients.
A key goal of Dash is to accelerate the progress of decentralized payments. It aims to get cheaper and faster than Bitcoin – the codebase that inspired it. The Dash decentralized payment system has two tiers:
The first tier has a standard blockchain based on a Proof of Work consensus. 

Second-tier transactions offer instant finality and private transactions. 
Essentially, Dash aims to increase the security of transactions. To make the decentralized payments mentioned above, DASH is the native cryptocurrency. Although DASH technology is based on Bitcoin, it also boasts a few unique features.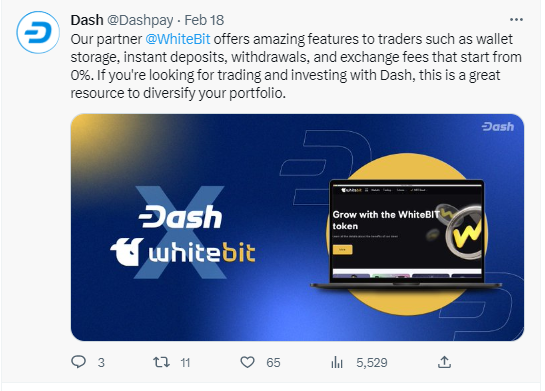 Besides their ambitious expectations, its founders are passionate about creating a digital currency that competes with Bitcoin.
Is DASH a Good Investment?
Users who mine new currency units create the DASH currency by leveraging their equipment capabilities and a decentralized system is used to issue DASH. 
Price changes for DASH are driven by supply and demand on exchanges. A DASH's value depends on how many coins one has and what one can buy with it. A professional team actively promotes DASH, so its popularity and price may grow significantly. 
There is a track record of successful partnerships and use cases for Dash coin, one of the oldest and most popular cryptocurrencies. However, your circumstances and risk tolerance determine whether this coin fits your investment portfolio well.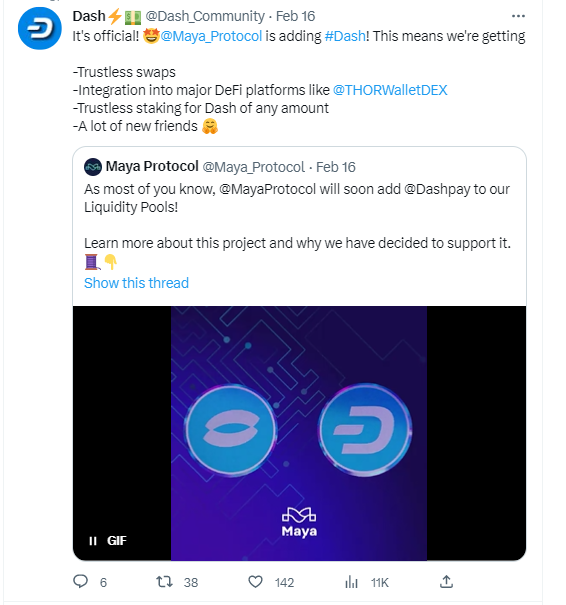 If you plan to invest, decide how much risk you will take. Invest only money you can afford to lose.
More News
Is it too Late to Buy Bitcoin in 2023? Trader Predictions
10 Best Cryptocurrencies to Day Trade
Fight Out (FGHT) – Newest Move to Earn Project
CertiK audited & CoinSniper KYC Verified
Early Stage Presale Live Now
Earn Free Crypto & Meet Fitness Goals
LBank Labs Project
Partnered with Transak, Block Media
Staking Rewards & Bonuses
Join Our Telegram channel to stay up to date on breaking news coverage
Credit: Source link