Join Our Telegram channel to stay up to date on breaking news coverage
The last few weeks have been one of the most volatile ones for the crypto industry. Apart from major cryptos like Bitcoin and Ethereum falling to unforeseen low prices, the investor sentiment seems affected too. Even the top crypto gainers in the short term have been experiencing severe downward movement.
With the FTX collapse, there are fears of authorities increasing the scrutiny and regulations over crypto exchanges. However, the one positive out of all this is that there are several crypto projects that are bringing some innovative and value-first offerings for their investors.
As the larger crypto market tends to suffer from greater degrees of volatility, these projects not just offer utility-based solutions, but also enable investors to make smarter investment decisions, play, and get a chance to earn via different sources.
Mentioned below are some of the top crypto projects that one can consider investing in in the current crypto winter.
What's Happening With the Value of Cryptos?
According to many, the recent collapse of FTX has led to many dividing the cryptocurrency existence into two verticals- post and pre-FTX eras.
The crypto markets seem to be bearish, and have in fact lost more than 1% of their market capitalization in the last 24 hours. Markets did see some degree of recovery after the FTX crash news started to cool down a little, although that was temporary. At the time of writing, Bitcoin is trading at $16,663 and Ethereum at $1,209. Moreover, other altcoins such as Polygon and Polkadot have lost 6% of their capitalization.
It is also being speculated that the FTX collapse can further extend the currently ongoing crypto winter, until the end of 2023. Moreover, there has been an increase in stablecoin dominance according to Coinbase, which reached a new high of 18%. This indicates that the liquidity crisis might stretch further. The dominance of Stablecoin evaluates the dominance of stablecoins within the crypto ecosystem as compared to the total market cap.
The rise in stablecoin dominance means that the market participants are exiting out of crypto assets and into USD-pegged stablecoins.
Top Cryptos You Can Consider in Current Market Scenarios
1. Dash 2 Trade (D2T)
As the world gets over the recent FTX crash, the existence and development of Dash 2 Trade might come as a boon for the entire industry.
Learn 2 Trade, which is a successful trading signal brand with over 70,000 users came up and decided to create Dash 2 Trade in recent weeks. In the simplest of terms, Dash 2 Trade might as well democratize crypto trading by giving the necessary tools and insights to a majority of investors and enabling them to make informed decisions before plunging into cryptocurrencies.
It is terming itself a 'world-class crypto analytics and social trading platform'. Amongst a long list of features, Dash 2 Trade includes trading signals, social sentiment, and on-chain analysis for spotting trending coins in the markets, strategy building and social trading tools, crypto listing alerts, and trading competitions for their subscribers.
Coming to the native token for Dash 2 Trade, the D2T token is an ERC-20 token on the Ethereum network, which is going to remain completely tax-free forever. These tokens will help subscribers gain access to Dash 2 Trade's number of features.

It is strongly believed that Dash 2 Trade brings a lot to the table. The tools and insights that an investor might have access to with Dash 2 Trade's dashboard is unmatched and usually only available to institutional investors of a larger scale. At the moment, one can invest in Dash 2 Trade, and get your hand on the D2T token by participating in the ongoing Dash 2 Trade Presale, which has raised $6.4 million as of now.
2. IMPT
The entry of IMPT.io is like a new breath of fresh air into the crypto ecosystem. The effects of climate change and global warming are concerning at many levels. Moreover, cryptocurrencies have always been at the forefront of contributing a large chunk to greenhouse emissions. In order to make individuals and organizations more aware and responsible, carbon offsets seem to be a great idea.
This is where IMPT.io's blockchain-based carbon offset platform comes into play, which can enable individuals and bigger corporations alike, to offset their footprints. These carbon credits are then further tokenized and converted into NFTs. Hence, they become trackable and help tackle the carbon offset industry's current issues with transparency and traceability. Further, when the user decides to retire their carbon credits, it burns the NFT too.

IMPT token is deeply etched and is at the center of the mission that IMPT is on. When it comes to the tokenomics of the coin, the supply is capped at 3 billion tokens. The current stage of IMPT Presale has been going on. As of writing, 681 million IMPT tokens have been sold, and $12.6 million have been raised already. IMPT token is currently priced at $0.023 and the price will rise further after the current presale stage is over.
What makes IMPT even more relevant is that the conversations around climate change and carbon emissions are still going on and are only expected to increase in the coming years. With governments, and larger corporations looking for ways to increase accountability and responsibility around emissions and carbon contributions, IMPT can be at the forefront of all of this.
3. Calvaria (RIA)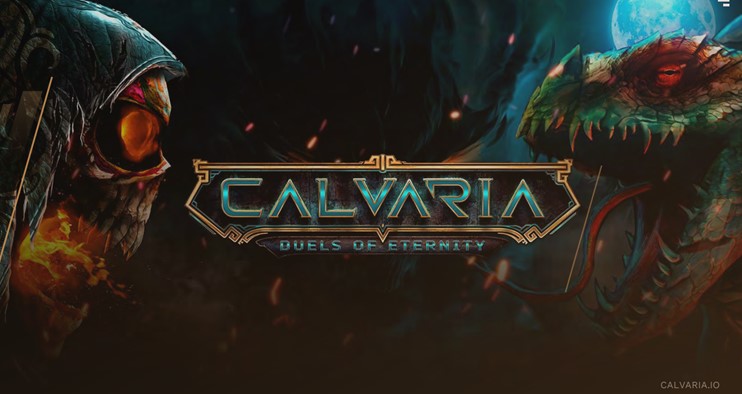 Calvaria is a project that has managed to find a place on many watchlists already. Calvaria: Duels of Entity is a card game that focuses on the players competing in different tournaments on the basis of the cards that they own. Every player's card is different from another, and each card has a character that has a unique characteristic.
Each player can deploy their own strategies in defeating their competitors in the game and end up winning rewards for them. At the heart of Calvaria, is decentralization and blockchain, which allows it to manage, plan and create immersive user experiences. The sense of true in-game ownership lies within every gamer in Calvaria as they can invest in Calvaria's resources or earn them as rewards.
The currency of the game is $RIA which is an ERC-20-based token. It comes with another iteration of itself, that is $eRIA. The $eRIA is a rewards-based token that will be credited to the player's in-game wallets when they win. Both of them will be suitable to be listed on CEXs. Users can also stake their tokens and become a part of the governance by opting in for the decentralized autonomous organization (DAO). The total supply of $RIA tokens is 1 billion.

Calvaria has an interesting roadmap in front of itself too. The $eRIA will launch early in 2023, along with a currently proposed 5-10 different CEX listings for the crypto, and partnering with several eSports teams. Further down in 2023, other exciting and valuable steps such as seasonal NFT drops, game expansions, patches, and new game modes will also be included.
Conclusion: Investing in Cryptos in a Post-FTX Stage
The FTX collapse and more such external factors seem to take a toll on the overall crypto markets. With the scepticism quite evident in many investors' minds, the entry of crypto projects like Dash 2 Trade is a relief.
Dash 2 Trade aims at being committed to protecting its traders and investors from disasters like FTX. Featuring a top-notch institutional grade dashboard and innovative features such as an automated scoring system, it is actually well-equipped to reshape the retail investing scene. Not only are these features quite exclusive but are available to investors at quite an affordable price.
With such projects, there's still hope for the crypto industry to rise, experiment, and learn. Investors are getting aware of the importance of value and utility in any crypto project, apart from just the hype.
Read More:
Early Stage Presale Live Now
Doxxed Professional Team
Use Cases in Industry – Offset Carbon Footprint
Join Our Telegram channel to stay up to date on breaking news coverage
Credit: Source link