Join Our Telegram channel to stay up to date on breaking news coverage
Despite the recent economic crises and a number of incidents that would make the industry seem bearish, the prices of many major tokens have increased considerably. There has been a decent increase in the overall valuation of the cryptocurrency market too, which has bought relief to the masses who had been in a state of constant fear since the latest FTX fiasco. But the token that has been gaining the most traction currently is Dogecoin, which has pumped more than 29% within just a week.
With thousands of projects being launched within every couple of months, it can be difficult to categorize or come up with the name of a cryptocurrency that has gained the kind of popularity Dogecoin has within a single year. Hailed as the original memecoin, the token has been experiencing volatility similar to the rest of the industry for the past couple of months.
But to understand better what the project is exactly, or why it is considered to be such a popular cryptocurrency, it is important to know how Dogecoin rose to its current value. Read on till the end, to learn about three cryptocurrency alternatives to Dogecoin that could be due for some amazing returns.
What is Dogecoin and why is it so popular?

Founded by Jackson Palmer and Billy Markus, Dogecoin was created as a joke way back in 2013. The token had no intrinsic value, other than being an asset of exchange. This was something the entire community was aware of even back then, so the tokens were used accordingly. They were airdropped or rewarded during giveaways as fun rewards to users of several projects. The value of the token was next to nothing for the following years.
However, things changed drastically when Elon Musk, the tech billionaire tweeted about the token. Infact, in the next couple of weeks, the Tesla owner would go on to promote the token as "people's crypto", which caused DOGE to shoot up in value with no limits. This continued for a while, and by the time of the bull market in 2021, Dogecoin had already made it into the top 10 cryptocurrencies list.
DOGE went from being worth around $0.009 at the beginning of 2021 to reach its all-time high of more than $0.46 within the next five months. This was undoubtedly how the trend for memecoins as a whole was kicked off, which is why a whole new category of meme-based tokens is introduced constantly in the domain, with much success most of the time.
Why is Dogecoin pumping?
Surely, the price of DOGE had touched around $0.65 in 2021, but the price crashed hard since, bringing its price back to $0.06 levels during the bear market. While there was a pump in prices recently in September, that increase too had waned off, with DOGE plunging to the $0.07 range again.
So what changed and why did the value of the token increase so much within such a short span again?
Well, as one would suspect, it was Elon Musk's influence; again. The pump back in October was caused by the news surrounding Elon's plans to acquire the social media platform Twitter. He eventually did seal the deal, which only helped prices to go up further. However, the FTX crash ended up causing DOGE's value to drop again, which has recently shot up by more than 29% again.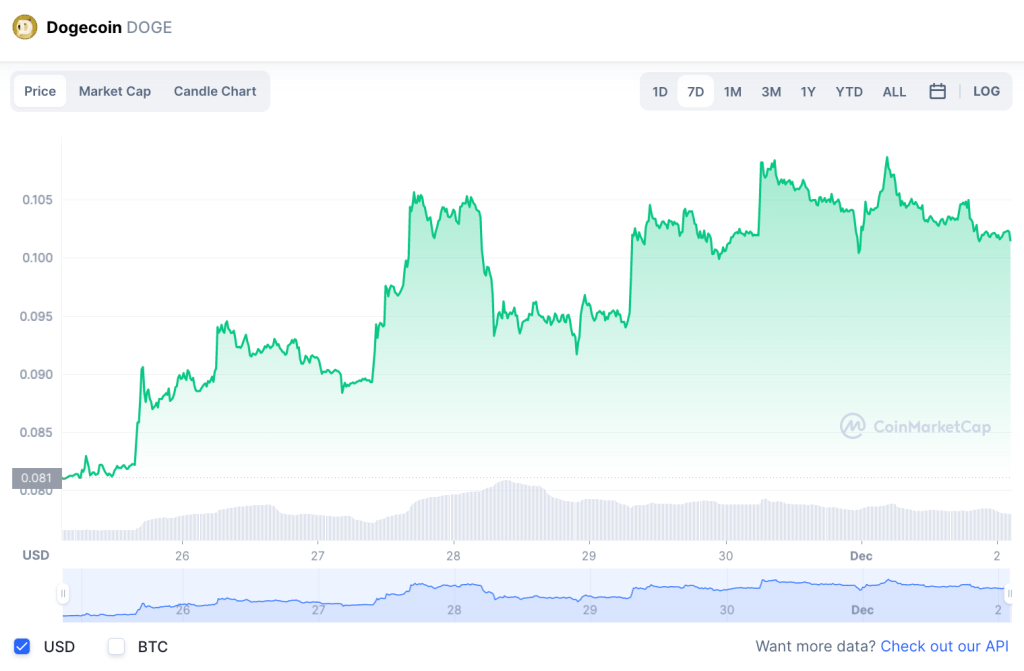 This is very likely to have been caused due to a variety of developments and a string of tweets that puts Elon Musk in the limelight. The token has historically risen every time the billionaire made headlines, and seems to continue the trend. There had been a controversy with apple, where Elon alleged that the company had been planning to remove the social media platform from their app store. He stated that he had a meeting with Tim Cook and that it was just a rumour.
Another reason could well be the introduction of Twitter 2.0 which apparently seems to be a better version of the app that Elon has envisioned. That along with SpaceX developments have been enough to cause prices to soar before, and have been following the movement again.
D2T, IMPT and RIA may be better investment options
The growth of Dogecoin did surprise several investors positively, but one needs to note that prices have fallen almost every time after they increased due to hype. This has been the case for DOGE since it rose in popularity. Investors should look for projects that provide actual value and boast utility.
Dash 2 Trade's D2T token, IMPT.io's IMPT token and Calvaria's RIA tokens are all examples of high fundamental cryptocurrencies, that could grow organically with much strength in the upcoming months. Since it is in the presale phase, the discounted prices only make the idea even more appealing.
Naturally, it is yet to be seen how these projects will fare in after launch. But the development speed, community engagement and concepts of all three projects have definitely intrigued the minds of a majority of experienced investors and traders in the space. This is evident on various social media platforms, which seem to be featuring the projects regularly even during its early days.
Read More:
Early Stage Presale Live Now
Doxxed Professional Team
Use Cases in Industry – Offset Carbon Footprint
Join Our Telegram channel to stay up to date on breaking news coverage
Credit: Source link