Ethereum price had a strong performance in the final few days of October as investors bought the dip. ETH rose to a high of $1,662, which was about 40% above the lowest level during the month. This rebound coincided with a rally of other cryptocurrencies like Bitcoin and Solana and American stocks.
Federal Reserve pivot hopes
The key catalyst for the rebound of Ethereum price was the rising hopes that the Federal Reserve will start pivoting on interest rates in the coming months. Some market analysts believe that the inverting yield curve will see the bank slow down on rate hikes.
The Fed will conclude its two-day meeting on Wednesday this week. Economists expect that it will hike interest rates by 75 basis points and continue with its quantitative tightening (QT). It has already hiked interest rates by 300 basis points this year.
Therefore, stocks and cryptocurrencies rallied as investors predicted that it will start slowing down the pace of hikes. Still, analysts at Bank of America (BoFA), Goldman Sachs, and UBS have reiterated that the bank will continue hiking rates aggressively.
Find out how to invest in Ethereum.
Still, despite the rebound, Ethereum's ecosystem remains under pressure. Data compiled by DeFi Llama shows that the total value locked (TVL) in its ecosystem has dropped to about $51 billion. At its peak, Ethereum had a TVL of more than $150 billion.
Its Non-Fungible Token (NFT) ecosystem has remained in the defensive as well. In October, the volume of Ethereum NFTs traded was $275 million, down from the previous month's $354 million. The volume has been in a downward trend after peaking at $3.2 billion in April this year.
Other parts of Ethereum's ecosystem have also been shrinking. For example, the metaverse is going through a rough patch, with most projects like Sandbox, Decentraland, and Axie Infinity struggling.
Ethereum price prediction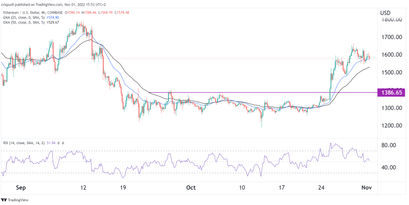 The four-hour chart shows that Ethereum price has been in a bullish trend in the past few weeks. It managed to cross the important resistance level at $1,386, which was the highest level on October 6. The coin remains above the 25-day and 50-day moving averages. At the same time, the Relative Strength Index (RSI) has formed a bearish divergence pattern.
Therefore, I suspect that Ethereum will drop in the coming days as the Federal Reserve maintains a hawkish posture. If this happens, the coin will likely retest the important level at $1,386, which is about 13% below the current level.
Credit: Source link