Join Our Telegram channel to stay up to date on breaking news coverage
Early on January 10, leading cryptocurrencies recorded gains as the market capitalization of all cryptocurrencies increased by 0.03 percent, to $847.01 billion, from the previous day.
Over the past 24 hours, the overall volume of the cryptocurrency industry has surged by 47.54 percent to $42.37 billion. Going on a similar trend, certain cryptocurrencies, including Aptos, showed positive price trends on their charts. The following is a list of the top cryptocurrencies whose prices have increased today:
Biggest Crypto Gainers Today
Aptos (APT)
The native token of Aptos, which is a layer-1 proof-of-stake (PoS) blockchain platform, is APTOS. The blockchain network, Aptos, is developed by Aptos Labs.
This network makes use of the Move programming language, which was developed by Meta in its attempt to introduce the Libra blockchain to improve its security and scalability. The main objective of Aptos is to ensure the mainstream adoption of Web3 technology and develop a network of DApps for dealing with real-life issues. As per the Aptos team, its network can execute more than 150,000 transactions in a second.
At the time of writing, the price of Aptos is $5.69, which has increased by more than 35% from the last day. This crypto has been on the rise for the last seven days, and its value has gone up by more than 52%. Its all-time high value is $10.25, and its present circulating supply is 130 million APT tokens. The initial total supply of these tokens is kept fixed at 1 billion.
Gala (GALA)
GALA is an Ethereum token that runs the popular blockchain gaming platform Gala Games. This token is often used as the medium of exchange through the platform users for making in-game transactions. For instance, players use this token to pay for in-game items. Users can easily download the mobile version of the gaming platform and enjoy it to play games and earn GALA tokens.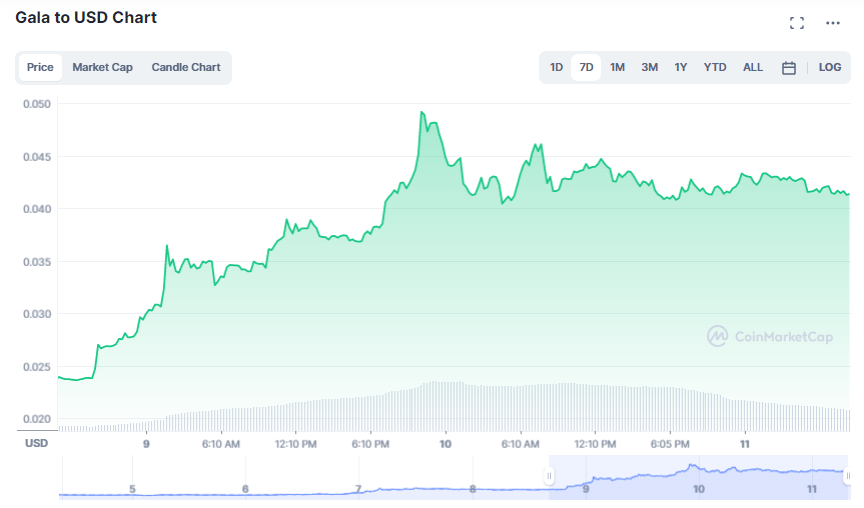 At the time of writing, the price of the Gala is $0.0408, which has gone up by more than 8.86% in the last 24 hours. This crypto is increasingly getting the attention of many crypto investors due to its price movements. Over the last seven days, its value has increased by more than 137%. Its all-time high value is $0.84, and it has a circulating supply of 6.9 billion tokens. The recent increase in its price is attributed to the partnership that its development team announced with Dwayne Johnson, also known as The Rock.
Dash 2 Trade (D2T)
Dash 2 Trade is a recently introduced crypto analytics platform that helps its users to make a good investment call with its unique features. The platform owns high credibility in the eyes of its users and investors as it has been verified for KYC uses by CoinSniper, and its smart contract code has been audited by Solid Proof. The native token of this platform is the D2T token, whose presale started in the last quarter of 2022.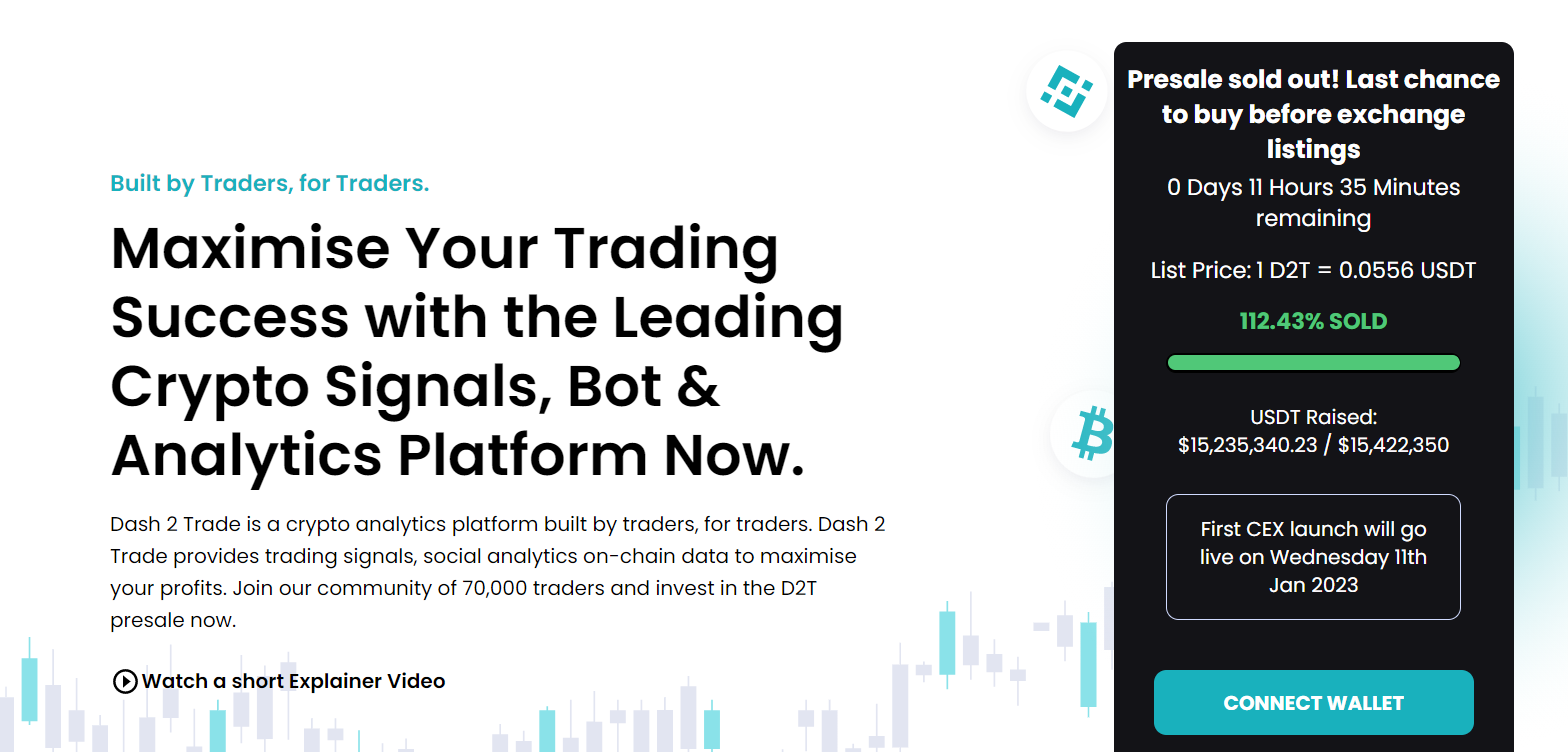 The platform provides access to a unique set of tools for knowledge, market analysis, and trading advice with the help of its native token, D2T. With the help of its on-chain analytics, users can have a close watch on the whales' activities and profit from the same.
Moreover, the platform provides a list of social indicators that are helpful for staying updated on popular crypto-related issues. It is important to mention that the official debut of D2T tokens on CEX will occur on January 11, 2023. With its exchange listing, the token is anticipated to maintain its good pace.
Calvaria (RIA)
The most popular play-to-earn battle card game, Calvaria, incorporates the elements of Decentralized Finance (DeFi) and Game Finance (GameFi). The concept of designing custom battle card decks and engaging in virtual combat to get RIA tokens has created a buzz about this project among investors and players. The last phase of 2022 saw the inauguration of the RIA presale, which was positively received by the crypto community.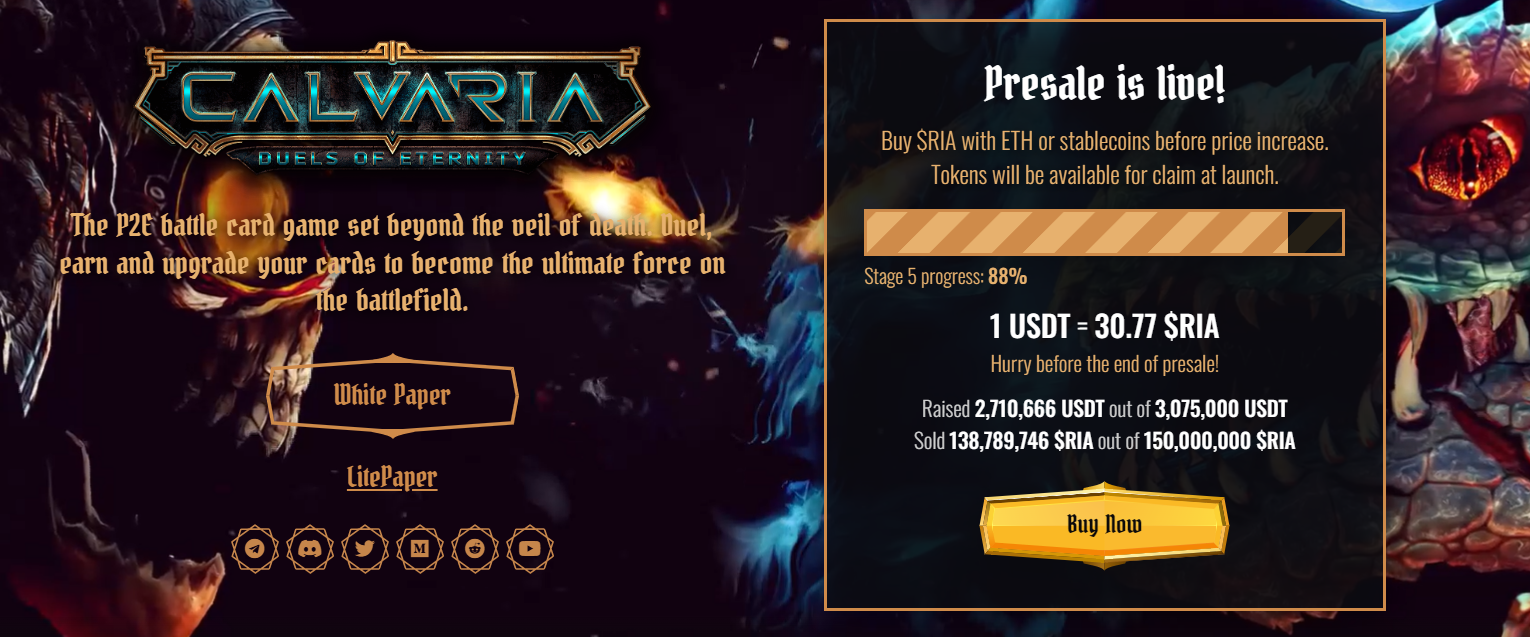 In stage five of its presale, which is now active, the project has been able to raise more than $2.7 million by issuing almost 138 million RIA tokens.
Currently, 1 USDT is kept at 30.77 $RIA. Investors should start purchasing RIA tokens at a discounted price as their presale is reaching its conclusion. After January 31, the RIA token will get listed on reputable exchanges like LBank, BitMart, and Changelly Pro. At the time of writing, only 12% of the tokens are available for purchase in this presale.
FightOut (FGHT)
The native token of FightOut, the latest move-to-earn crypto platform for fitness enthusiasts, is currently in the first stage of its presale. Users can sign up on this platform with an FGHT token to start their fitness journey on FightOut. At the time of writing, it has been able to raise more than $2.8 million from its presale. The price of 1 FGHT token is kept at 0.0166 USDT. Its presale is expected to end by March 31, 2023.

Users can even get a bonus of 50% during this presale. Once the presale of FGHT tokens is over, these tokens will have their CEX listings. These CEX listings are scheduled to happen on April 05, where the price of 1 FGHT token would be 0.0333 USDT. As the price of these tokens will rise after the listings, investors should consider investing in FightOut at a discounted price.
RobotEra (TARO)
TARO, an ERC-20 utility token, is the backbone of the RobotEra ecosystem. This token would be used by gamers and developers as a medium for exchanging assets and making a user-based platform of rewards. The total number of TARO tokens that would be allocated is 1.8 billion. At the time of writing, the presale of TARO tokens is going on, which is considered as the top crypto presale of the year.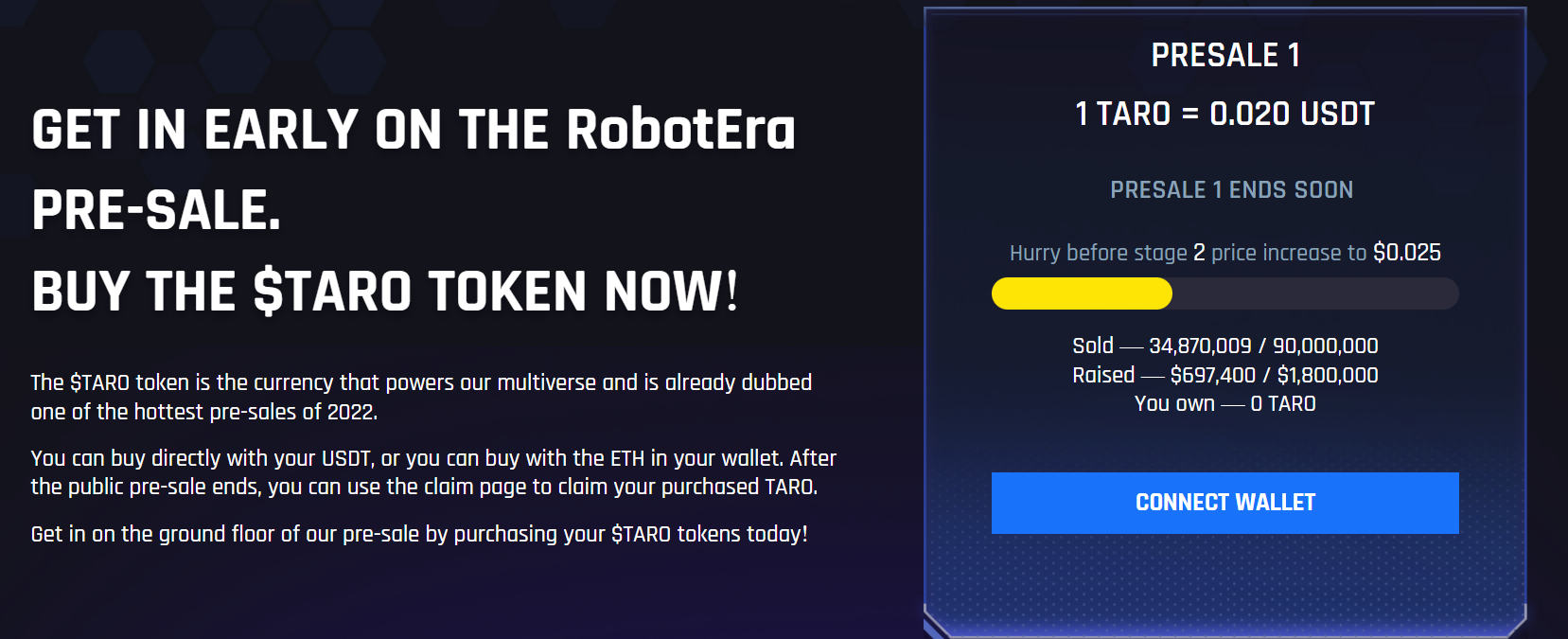 About 270 million TARO tokens are allocated for presale. The price of the TARO token in the first stage of its presale is 0.020 USDT. This price would go up in the subsequent stage, where it would be sold for a value of $0.025. Similarly, the price of TARO tokens in the third stage of the presale would be $0.032. Over 34 million TARO tokens have already been sold in the first stage, and about $697,000 have been raised so far.
Conclusion
Crypto traders had a good day in the market today. Cryptocurrencies, like Aptos and Gala, have brought smiles to the face of their investors. Nonetheless, given that the crypto market is volatile, it is important to make any investment after doing proper background research. This would ensure a profitable investment portfolio in the long run.
Read More:
FightOut (FGHT) – Newest Move to Earn Project
CertiK audited & CoinSniper KYC Verified
Early Stage Presale Live Now
Earn Free Crypto & Meet Fitness Goals
LBank Labs Project
Partnered with Transak, Block Media
Staking Rewards & Bonuses
Join Our Telegram channel to stay up to date on breaking news coverage
Credit: Source link